Cattle colonies, a time bomb waiting to explode – Biafra group
In a statement signed by its Director-General, Eberechukwu Anigbogu, MOBIN said the federal government's delay or reluctance in proscribing herdsmen as terrorist group despite their terror acts in many parts of the country smacks of complicity.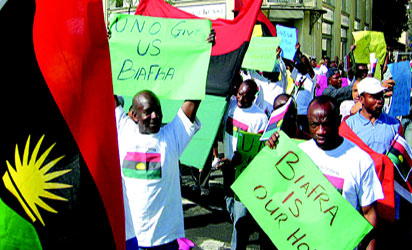 MOBIN also said that it rejects in totality the plan to establish cattle colonies across the country, saying cattle rearing is a private business and as such, the herdsmen must buy lands for their business and not for the federal government to confiscate people's lands and hand them over to private business men.
The statement partly reads thus:
"Following the failure of the federal government (that wasted no time in proscribing a non violent movement as a terrorist organization) to control the menace of terrorists masquerading as herdsmen but instead, planning to establish colonies for them not only shows government complicity but goes a long way to prove that indeed all animals are not equal in this country.
"Cattle rearing which Is strictly a private business of some people from some parts of the country has become an issue of national discourse whereby the herders are allowed to use sophisticated weapons without being arrested, is a serious issue of concern and these men have left nothing but bloodshed, destruction of farmlands and properties on their path.
"It beats common logic that instead of calling for the arrest and prosecution of these terrorists, they're to be rewarded. MOBIN is therefore calling on the government to put a stop to any plans that will see the government taking the lands that belongs to the locals and be given to foreigners who should pay for the land if they need it because every businessman pays for his shop if he's not the owner.
"MOBIN therefore rejects the establishment of colonies in any part of our land and calls on her political leaders to do same as this is a time bomb waiting to explode."